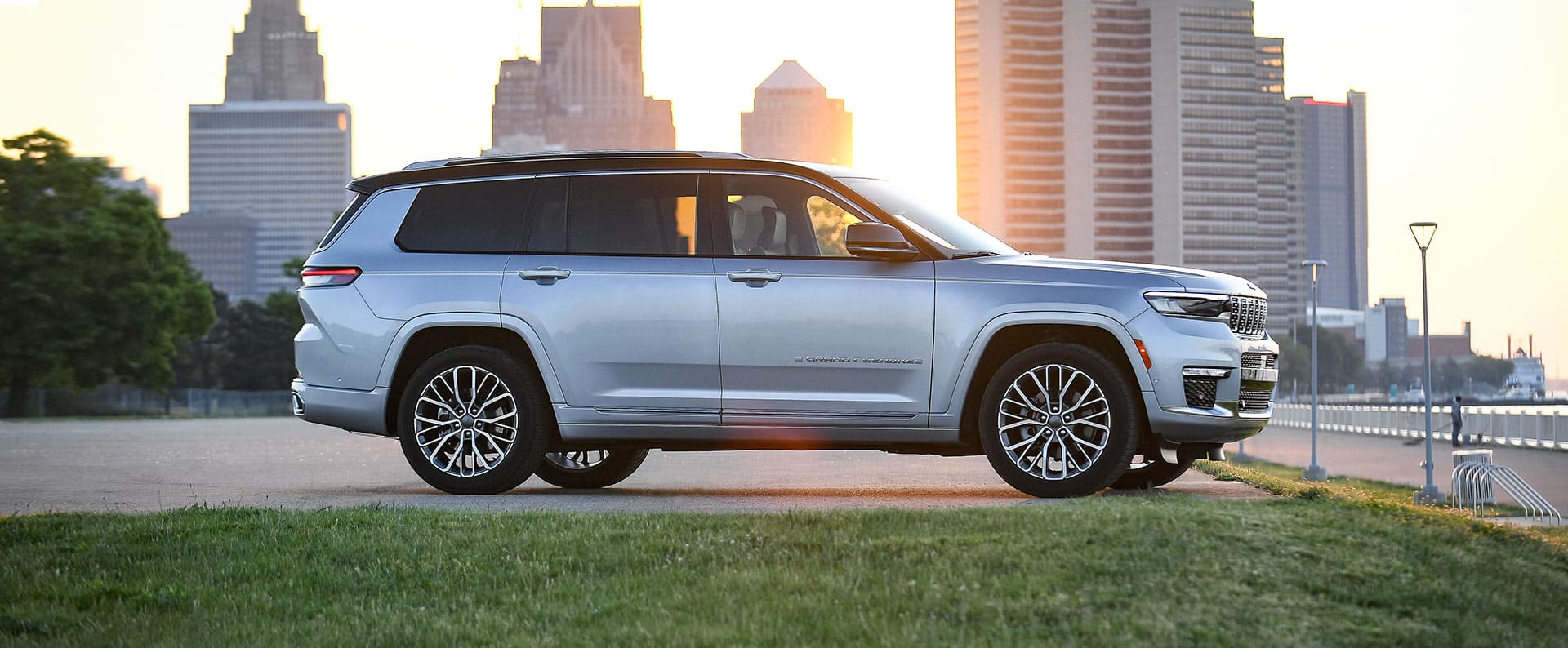 Top Accessories for the 2021 Jeep Grand Cherokee L
The Jeep Grand Cherokee L is one of the latest additions to the Jeep lexicon, and is also the brand's first ever three-row SUV to hit the market. This SUV is already making a splash within the large SUV segment thanks to its stylish design, luxurious interior, and impressive off-road capabilities. The Grand Cherokee L offers something for everyone; the spacious cabin is perfect for family trips, the dashboard features a stunning new infotainment system for the music lover, and the Overland trim level offers peak performance for the off-road enthusiast. However, if you really want to take your Grand Cherokee L to the next level, you'll definitely want to check out this lineup of accessories to enhance your SUV even more! Continue reading below to see a few of our favorites.
Cargo Solutions
The Grand Cherokee L's spacious interior cabin allows you to bring lots of items along for your journey. To help keep everything safe and organized, there are a number of Mopar accessories designed for cargo management both inside and outside the vehicle. There are mats to put down on the cargo floor to protect it from any dirt or scratches, a multi-section Cary Bag that allows you to sort your items into the various compartments, and there are also a variety of rooftop cargo solutions for bikes, kayaks, surfboards, and more!
Rooftop Watersport Carrier
Rooftop Bike Rack
Cargo Liner
Carry Bag
Trailering Accessories
When it comes to towing, the Grand Cherokee L boasts an impressive amount of muscle. It can tow up to either 6,200 or 7,200 pounds depending on the engine and drivetrain configuration. To enhance its towing capabilities even further, consider a few of the Mopar towing accessories available to the lineup! Some of these accessories include a trailer hitch receiver, hitch balls of multiple sizes, and even a few ball mount adapters that help either raise or lower the height of the ball hitch and give you more leeway in your trailering hookup.
Trailer Hitch Receiver
Ball Mount Adapter
Hitch Ball - 1 ⅞"
Hitch Ball - 2"
Exterior Accessories
To keep your car's exterior free of scratches and debris, or to simply spruce up its appearance, Mopar has an accessory for your Grand Cherokee L! There are a number of license plate frames that let you flaunt your car's Jeep heritage, as well as a Jeep Accessories badge to affix to your car's exterior. You can also order integrated side steps for easy entry and exit, and side window air deflectors that can keep out rain and wind while still allowing you to crack the window and ventilate the car.
License Plate Frame
Jeep Accessories Emblem
Integrated Side Steps
Side Window Air Deflector
Interior Accessories
Just like the exterior accessories, Jeep's line of interior accessories serves many different purposes including protection, safety, and style. The pet carrier provides a safe and comfortable place for your pet to lie down and enjoy the ride, while also keeping the interior free of pet hair. There are several different safety kits available to keep on hand, one of which is the Jeep Trail Rated Kit, which includes a winch manual, tow strap, carabiner, D-rings, and more. To keep your Grand Cherokee L's interior scratch-free, check out the door sill plate which protects the high-traffic area just inside the front door while also adding a striking chrome Jeep emblem.
Pet Carrier
Trail Rated Kit
All-Weather Floor Mat
Door Sill Plate
Find All Your Jeep Accessories at Flagler DCJR!
No matter what you're looking to get out of your Jeep Grand Cherokee L, our certified Mopar Service Center can help you order the perfect accessory! You can even browse all the available accessories online from the comfort of your home. If you need any help choosing or installing parts and accessories, you can also easily make an appointment with our service center using the online form here on our website! From all of us here at Flagler DCJR of Palm Coast, we can't wait to work with you soon!