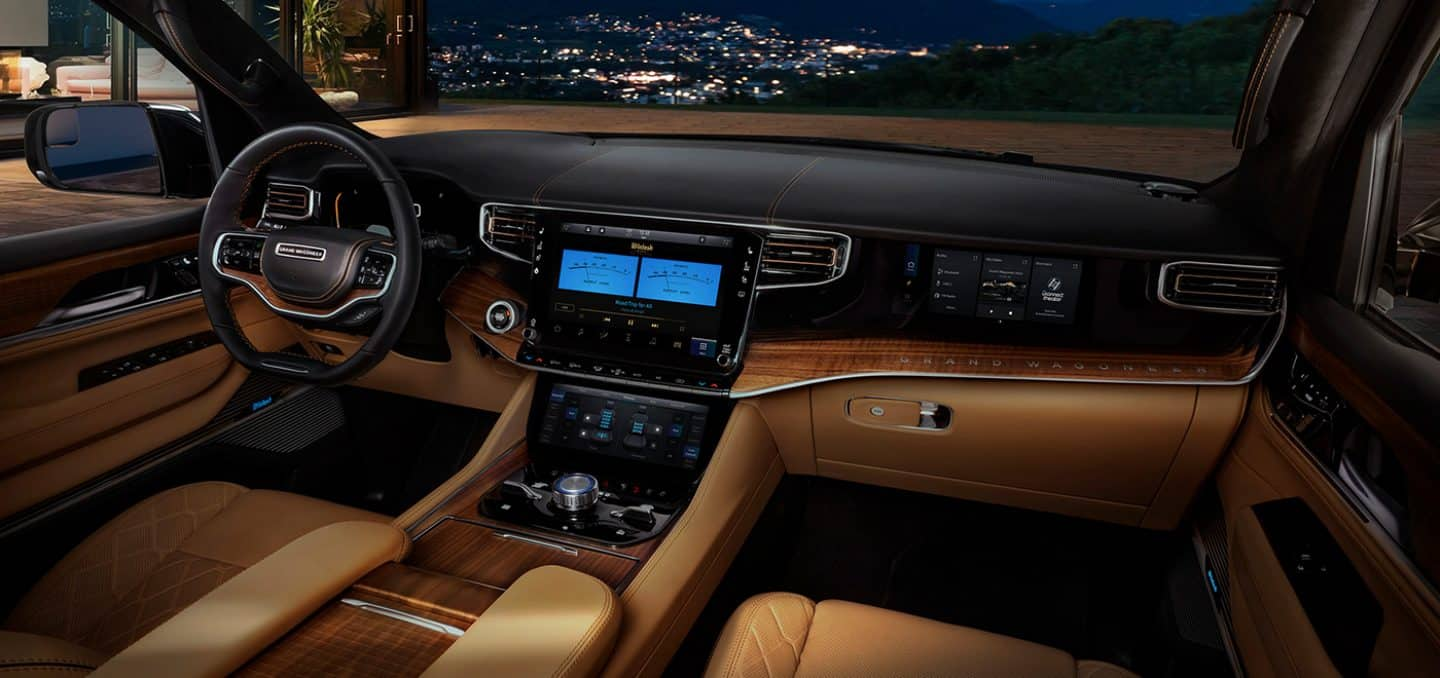 Technology features of the 2022 Wagoneer and Grand Wagoneer
Between 1963 and 1991, the Wagoneer and Grand Wagoneer were two of the most advanced vehicles in the automotive industry by combining features and technologies that hadn't been seen before. The Wagoneer name is returning to the automotive industry as a premium extension of the Jeep brand in the same way it did in its early days. The 2022 Wagoneer offers some of the most advanced technology to date and will impress even the most tech-savvy drivers. Keep reading below to learn about some of the incredible technology features the 2022 Wagoneer has to offer.
Wagoneer display screens
The Wagoneer features a 10.1-inch infotainment touchscreen on the center stack within easy reach of both driver and passenger. Meanwhile, the Grand Wagoneer features a 12-inch display. This touchscreen displays Uconnect 5, which operates five times faster than Uconnect 4 and has many more incredible features. Behind the steering wheel is a 10.25-inch digital driver information cluster (12.3-inch on the Grand Wagoneer). This full-color display is home to five configurable tiles for data at a glance and easy access to a driver's most used information. This screen also offers full-screen turn-by-turn navigation, adaptive cruise control, and speed limit traffic signs. There are almost 24 menus you can choose from for the driver information cluster, and all of these settings can be remembered in the Uconnect 5 user profiles. The top two Grand Wagoneer trim levels get a 10.25-inch passenger touchscreen, giving them access to the view of the exterior cameras, rear seat cameras, navigation, and more. The Grand Wagoneer also offers four-zone automatic climate control on a 10.25-inch touchscreen on the center console. Rear seat entertainment screens are available with Amazon Fire TV to access hundreds of thousands of apps, movies, and TV shows.
What is Uconnect 5?
As was mentioned above, Uconnect 5 operates at speeds up to five times faster than the current Uconnect software. On both Wagoneer models, Uconnect 5 is displayed on a 10.1-inch touchscreen, while the four Wagoneer models feature a 12-inch touchscreen. All models have smooth smartphone integration with wireless Apple CarPlay and Android Auto. This allows you to access all your favorite apps and features from your phone on your car without the need for a cord. Amazon Alexa virtual assistant is also standard, allowing drivers to use Alexa the same way they would in their homes while on the go. The Alexa integration also features home-to-car and car-to-home functions, keeping you informed and connected anywhere you go. In addition, the five user profiles offered by Uconnect 5 allows different drivers to set the Wagoneer to remember things like seat and mirror position, climate control settings, music preferences, driver information cluster display, and more. Other standard Uconnect 5 features include WiFi connectivity for up to eight devices, TomTom navigation with natural speech, predictive search and live traffic updates, dual Bluetooth connectivity, and much more.
McIntosh Labs premium audio
McIntosh Labs provides world-class in-home sound systems. Designers from McIntosh worked closely with the Wagoneer designers to create a one-of-a-kind sound experience with two systems; MX950 and MX1375. The MX950 sound system is available to the Wagoneer Series III and the Grand Wagoneer Series I and Series II. MX950 features a 950-watt amplifier with 17 channels and 19 speakers, including a strategically placed 10-inch subwoofer. MX1375 is available to the Grand Wagoneer Series II but standard on the Obsidian and Series III. This features a 1375-watt amplifier, 23 speakers, and a 12-inch subwoofer. In addition, the Wagoneer models are designed with premium sound insulation to allow all occupants to be surrounded by crystal clear sound.
2022 Wagoneer models in Palm Coast, FL
The 2022 Wagoneer and Grand Wagoneer both bring incredible features that are sure to excite! Interested in putting a Wagoneer model in your driveway? Come on down to Flagler Chrysler Dodge Jeep Ram, where a professional sales team member will be happy to show you our inventory and answer any questions you may have. You can also stay up-to-date with our current inventory by checking out the new inventory page right here on our website. If you have any questions, feel free to reach out to us by phone or right
here
on our website. We look forward to hearing from you!