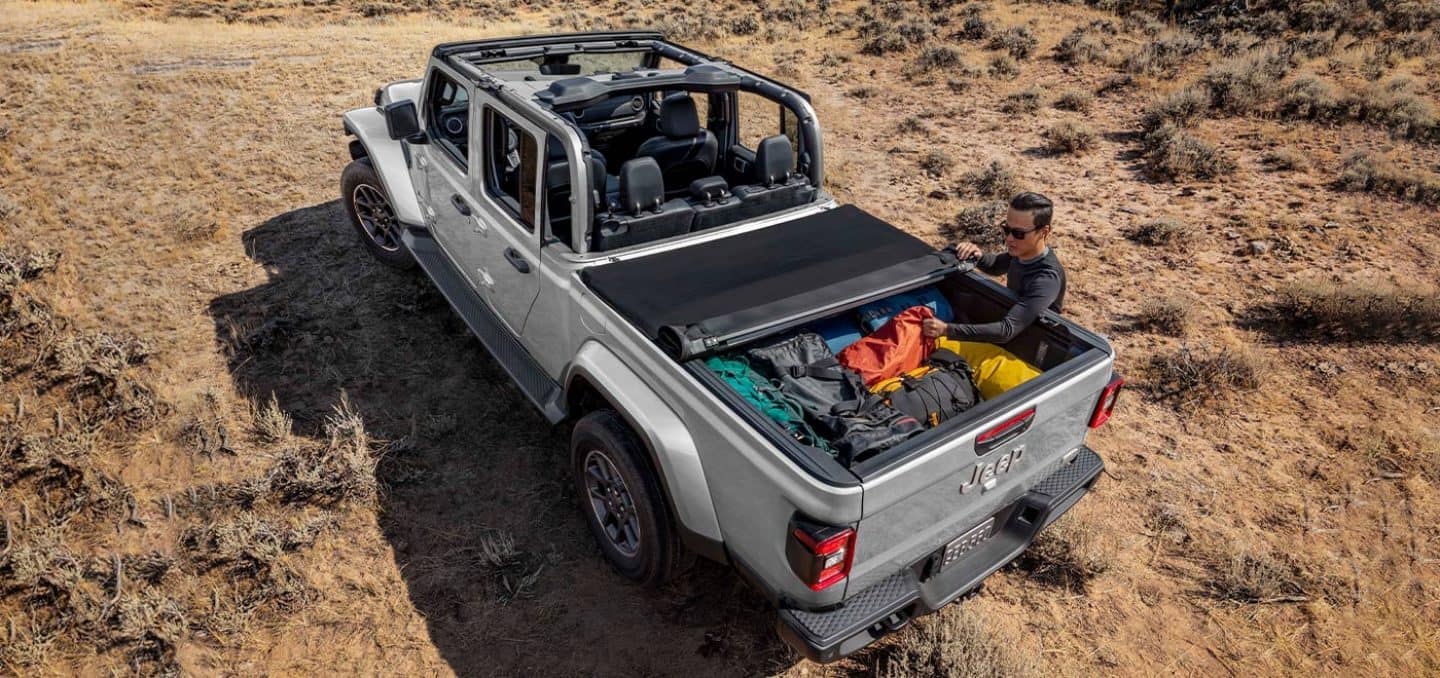 Top Accessories for your Jeep Gladiator
Order Parts and Accessories at Flagler CDJR!
The Jeep Gladiator really stands out within the pickup truck segment thanks to its sporty features, and signature Jeep design. The Jeep Gladiator is the only pickup truck on the market to come standard with Jeep's signature convertible roof, removable doors, and fold-down windshield! It also comes with a five-foot flatbed, a 60/40 split-folding rear seat, and standard 4-wheel drive! For 2022, there are four core trim levels in the Jeep Gladiator lineup, as well as a variety of sub-trims that offer even more unique features to the range. As you can see, the Gladiator is an ideal choice for anyone who loves off-road adventures! To help you really make the most of your Gladiator, there are also many different Mopar parts and accessories to choose from on the Mopar eStore. These accessories help with everything from capability and towing, to storage, and everything in between! Continue reading down below to learn more about the accessories offered for the 2022 Jeep Gladiator!
Bed Accessories
The Jeep Gladiator comes with a 5-foot flatbed that can handle up to 1,200 pounds of payload! To help you really make the most of this truck's potential, consider opting for one of the many bed accessories available from Mopar! For example, you can find a tonneau cover, either soft-top or hard-top, that will keep dust debris, and moisture out of your truck bed and off of your belongings. The cover is tri-folding so that you can easily take it on and off. Other features include a truck bed toolbox for easy storage, and a bed liner to keep the surface of your truck bed safe and free of scuffs. There are also utility rails available so that you can add a second layer of storage, or use them to tie down your gear.
Tonneau Cover
Truck Bed Toolbox
Bed Liner
Utility Rails
Storage Accessories
Aside from the five-foot bed, there are lots of opportunities for storage in the Jeep Gladiator! You can fold down the rear seats to open up even more space for all of the equipment you want to bring on your journey. When you fold down the seats, you can opt for several different accessories that will help you keep everything safe and organized. For smaller items, you can use a Jeep branded storage bag to keep everything securely zipped inside. There's also a multi-compartmented cargo tote so that you can keep all of your belongings organized. If you want to add even more gear to the roof of the Gladiator, there are multiple different options for you! First of all, there's a rooftop cargo net that offers a flexible net to tie down your gear on top of the truck. There's also a rooftop bike carrier that can carry up to two bikes at once, and keep them securely attached to your roof!
Storage Bag
Cargo Tote
Cargo Net
Bike Carrier
Interior Accessories
As we mentioned above, the Jeep Gladiator has a five-seat interior, with a 60/40 split-folding rear bench. The interior also offers features like a six-speaker or 9-speaker sound system, dual-zone automatic climate control, and available leather-trimmed seats! On the Mopar eStore, there are many accessories available to help you enhance your Jeep Gladiator's interior! For example, you can find an interior air purifier, to keep your cabin feeling fresh and clean, even when the roof and doors are attached! There's also a sunshade that you can place over your windshield on the inside, and its reflective surface will reduce glare, and keep your car from getting too hot while it's parked outside. To protect your Gladiator against muddy shoes after a day of hiking or exploring off-road trails, there are all-weather rubberized floor mats that can easily be sprayed down. There are also metal pedal covers that protect your pedals while providing a bolder, sportier look.
Air Purifier
Sun Shade
All-Weather Floor Mats
Pedal Cover
Exterior Accessories
As we all know, the Jeep Gladiator is beloved for its convertible roof, doors, and windshield. Mopar helps you make the most of these elements by offering you plenty of roof and door accessories! There are soft-top and hard-top roof replacements that you can choose from, as well as mesh door covers, so that you can have a little bit of a buffer while still enjoying that open-air freedom. There's also a Sunrider hard-top that provides you with a hard-top roof with a foldable front panel so that you can enjoy the best of both worlds. Other features include an off-road bumper that can stand up to rocky terrain while giving you some extra ground clearance, and side steps for easier entry to the vehicle.
Off-Road Bumper
Mesh Door Covers
Sunrider Top
Side Steps
Find Parts and Accessories at Flagler CDJR!
If you're ready to really make your Jeep Gladiator your own, then it's time to check out the available Mopar parts and accessories available to you here at Flagler Chrysler Dodge Jeep Ram! You can browse through the Mopar catalog right here on our website under the Parts & Service tab, or get in touch with our Service Center here at our dealership in Palm Coast, Florida! Here, our certified technicians can offer you advice on which parts might be right for you, and we can also order and install all of the parts and accessories you need. Make your service appointment online by filling out the request form on our website, or give us a call here at Flagler CDJR. We look forward to working with you soon!