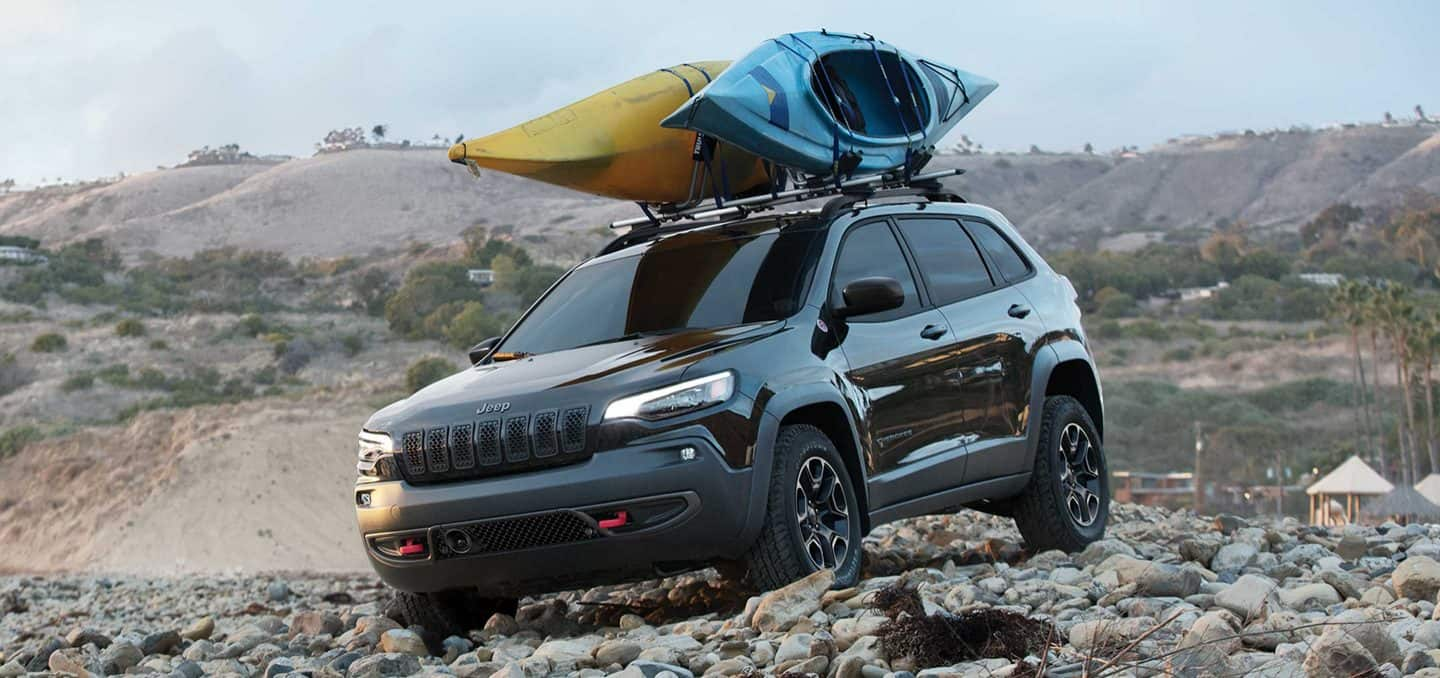 Top Accessories for your Jeep Cherokee
Order Accessories with Flagler CDJR!
The Jeep Cherokee is new and improved for the 2022 model year, and it comes equipped with all sorts of exciting features for you to enjoy. The Jeep Cherokee is a crossover SUV that comes equipped with exciting and useful features that make it easy for you to tackle your next adventure! The Cherokee can bring you to and from work on your daily commute, and it can also help you navigate your favorite off-road trail with ease! The Cherokee has signature Jeep features, like the iconic seven-slot grille, and it also comes with LED headlights for 2022. Inside, the Cherokee has available features like heated, leather-trimmed seats, and a Uconnect infotainment touchscreen equipped with Apple CarPlay and Android Auto. If you're looking for a great way to enhance your Jeep Cherokee, then Flagler CDJR is here to help. Here, we can help you order and install all the accessories you need to customize your vehicle. Read on to learn about the top accessories for the Jeep Cherokee!
Exterior Accessories
If you want to spruce up the appearance of your Jeep Cherokee, you're in luck! There are tons of different accessories to choose from to add to the exterior of your Jeep. You can select one of the license plate frames to make a crisp, clean border around your plates. There's also an available Jeep accessories badge. In addition to these appearance features, you can also choose exterior accessories that protect your vehicle. There's a vehicle cover that can be pulled over the top of the entire vehicle to protect it from dust, pollen, or moisture. This is ideal for vehicles parked outside, or if you want to store your Jeep while keeping it looking good as new. There are also rock rails available for your Cherokee, which will protect the undercarriage from any scratches on rocky terrain!
License Plate Frame
Badge
Vehicle Cover
Rock Rails
Interior Accessories
There are tons of interior accessories available for your Jeep Cherokee! The Cherokee offers a sleek and spacious five-seat interior, with available features like leather-trimmed seats! For those who are looking for a way to personalize their Cherokee's interior, you can choose between the many available Mopar accessories! For example, you can find an air purifier that will keep the air inside your cabin feeling fresh, crisp, and clean. If you're someone who loves camping, hiking, or hitting the off-road trails, then you can opt for the all-weather floor mats that can easily be cleaned off after a day outside. There's also a car care kit, which includes supplies like glass cleaner, leather cleaner, and more! Lastly, you can find a roadside safety kit complete with high-visibility cones and much more!
Air Purifier
All-Weather Mats
Car Care Kit
Roadside Safety Kit
Rear Cargo Area
The Mopar eStore offers tons of different accessories that will help you make the most of your Cherokee's interior storage area. The Jeep Cherokee has a spacious rear storage compartment, and you can expand your space by folding down the rear seats. With the help of a few accessories, you can easily keep all of your belongings neat and organized inside the car. First off, there's a molded cargo tray, which is designed to fit onto the cargo floor, creating a solid, waterproof liner that will protect the surface of the vehicle. There's also a portable pet kennel that fits perfectly into the rear. Other handy cargo accessories include a four-compartment cargo tote, as well as a flexible cargo net that allows you to easily tie down your items.
Molded Cargo Tray
Pet Kennel
Cargo Tote
Cargo Net
Rooftop Storage
Aside from the area inside the vehicle, the Jeep Cherokee also offers many opportunities to carry cargo on top of the vehicle! There are lots of unique cargo carriers that allow you to carry various types of equipment on top of your vehicle. For example, there's a rooftop cargo basket with a net to stretch over the top, and tie down anything you'd like to carry. There are also specific types of rooftop racks for sports gear, like a bike rack that can carry two bikes at once, and a surfboard carrier! There are also canoe racks, ski racks, and more! If you're looking for a more versatile option, you can opt for the cargo box with a hardtop shell that keeps out moisture, dirt, and debris.
Cargo Basket
Surf Board Carrier
Bike Rack
Cargo Box
Schedule Your Appointment with Flagler CDJR!
Now that we've had the chance to describe some of the accessories available for the Jeep Cherokee, it's time to fill you in on how you can get your hands on them! Here at Flagler CDJR, we're more than happy to help all of our customers order and install the parts and accessories they need. At our dealership here in Palm Coast, Florida, you'll have the opportunity to meet with experienced mechanics in our service center who will walk you through the process of ordering your parts and accessories, and install them for you so that they're ready to use! You can even get started right here on our website by clicking on the Parts & Service tab. From there, you can browse all of the available Mopar accessories, place your order online, and make a service appointment request, all online! From all of us here at Flagler CDJR, we look forward to working with you soon!