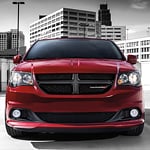 The Dodge Grand Caravan is a vehicle that has a sleek, distinct design. The exterior features are what make this vehicle stand out. The Dodge Grand Caravan combines style and substance. This vehicle will make it easier for you to see even when it is raining or snowing outside. The mirrors will stay free of frost and ice.
It also has features that will keep passengers and the driver comfortable, including the standard sunscreen glass. This blocks out the sun. Not only will this keep everyone comfortable, but it will also keep your car from overheating while it is sitting in the sun.
The Dodge Grand Caravan makes it convenient for you to transport your luggage and camping gear. It has a roof rack with black side rails. You will no longer have to worry about putting things in the back seat of your car because there is plenty of room on the rack.