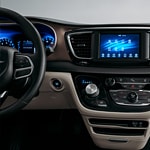 The Chrysler Voyager is a right minivan choice for your driving needs in Palm Coast, FL. It primarily features a V6 engine that has been optimized for economical fuel consumption. Its comfortable ride adds to its performance rating as reviewed by Flagler Chrysler Dodge Jeep Inc.
Its engine produces a horsepower of 287HP, owing to its capacity of 3.6 liters. The Chrysler Voyager is geared with a nine-speed automatic transmission for smooth acceleration and speed maintenance. The EPA gives it a 19 mpg in the city and 28 mpg on the highway giving it an average of 23.5 mpg. It has a front-wheel-drive to enable efficient handling of its minivan nature.
Want more details on these and other features? Visit our Flagler Chrysler Dodge Jeep Inc showroom in Palm Coast, FL for a test drive on the Chrysler Voyager. Our sales associates will be happy to help.