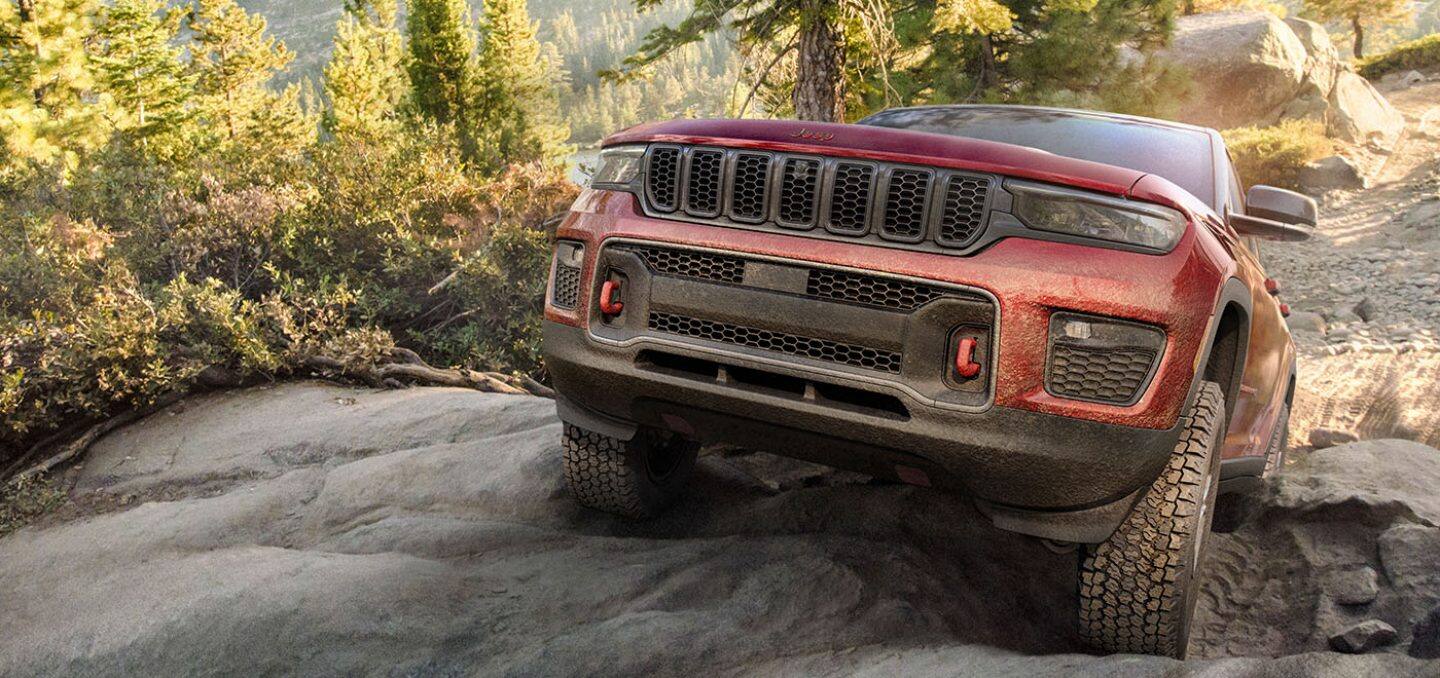 Beginner's Guide to Jeep Off-Roading
Learn more from Flagler CDJR!
The Jeep Brand has supplied drivers with highly capable vehicles that can take on some of Earth's most challenging conditions. Off-roading can seem intimidating when you're just starting out, but with the right equipment, skills, and knowledge, you can make your first off-roading adventure safe and fun! Continue reading below for more information on how to get started.
Understand Jeep's 4x4 systems
The first step to starting your off-roading knowledge is to understand the different drivetrains for off-roading, and Jeep offers several. If you're looking for an off-roading Jeep, chances are you're looking at the Wrangler, so that's where we'll start. The Wrangler uses part-time 4x4 systems, like Jeep's Command-Trac 4x4. Part-time means that drivers should choose two-wheel-drive (2WD) under normal driving conditions to maximize fuel efficiency. This will send power to the rear wheels. When driving on rugged terrain, drivers should shift into 4WD. These systems offer 4-Hi and 4-Lo modes. 4-Hi is for driving on loose terrains like sand or loose gravel, while 4-low should be used for low-speed crawling on rocks or other jagged terrains. The 4-Lock feature locks the axles and splits the torque evenly between both axles. Full-time 4x4 like the Quadra-Trac systems for the Grand Cherokee drives all four wheels simultaneously. When the system senses a loss of traction, the transfer case will divert up to 100% of available torque to either axle to limit or eliminate the slip. The last kind of Jeep 4x4 system is on-demand used by the Cherokee and Compass 4x4 models. This operates in front-wheel-drive on normal road conditions. When a loss of traction occurs, the system will automatically engage the rear axle and send torque to the axle with the most traction to counteract the slip.
Prepare your vehicle for the trails
If you already have your off-roading Jeep, you want to make sure it's ready for the trails before you set out. Giving your Jeep a thorough inspection before heading towards the trails will help prevent any unforeseen issues. First, make sure your tires are correctly inflated and have plenty of tread depth. You should also ensure that your vehicle's fluids are adequately filled and in good condition. Experienced off-roaders recommend filling your tank before heading out to the trails and bringing a few extra gallons of gas. Lastly, you should look under the hood to ensure that all electrical connections are tightly sealed to prevent water damage and inspect the belts, lines, and hoses for leaks or cracks. To make sure this inspection is done correctly, the service team here at Flagler Chrysler Dodge Jeep Ram would be happy to take a look at your Jeep!
Safety first
Safety matters most while you're off-roading, so we'd like to offer a few tips to keep you safe. First, it's important never to go off-roading alone. Having a group of vehicles on the trail will ensure that if a car gets stuck, it can be pulled out. Also, each driver should have a spotter when driving over extreme terrain. This spotter will help guide the driver over the obstacles and advise them on how to control their speed and steer. Without a spotter, you might not see a trail obstacle and get stuck. Additionally, there is some equipment that off-roaders recommend you have in your vehicle, including an emergency kit with water, food, a GPS, a first aid kit, and a fire extinguisher. Additionally, you should bring a winch and learn how to use one before your first off-road adventure.
Where to get an off-roading Jeep near me
If you're ready to hit the off-road trails near Palm Coast, FL, Flagler Chrysler Dodge Jeep Ram is the place to start! Here, you can find a wide variety of well-equipped Jeep models to begin your off-roading journey. Browse our inventory online or in-store to find yours! If you want to make sure your Jeep is ready for the trails, schedule a service appointment here on our website to have it inspected by one of our expert technicians. Whatever your off-roading needs are, we look forward to serving you!