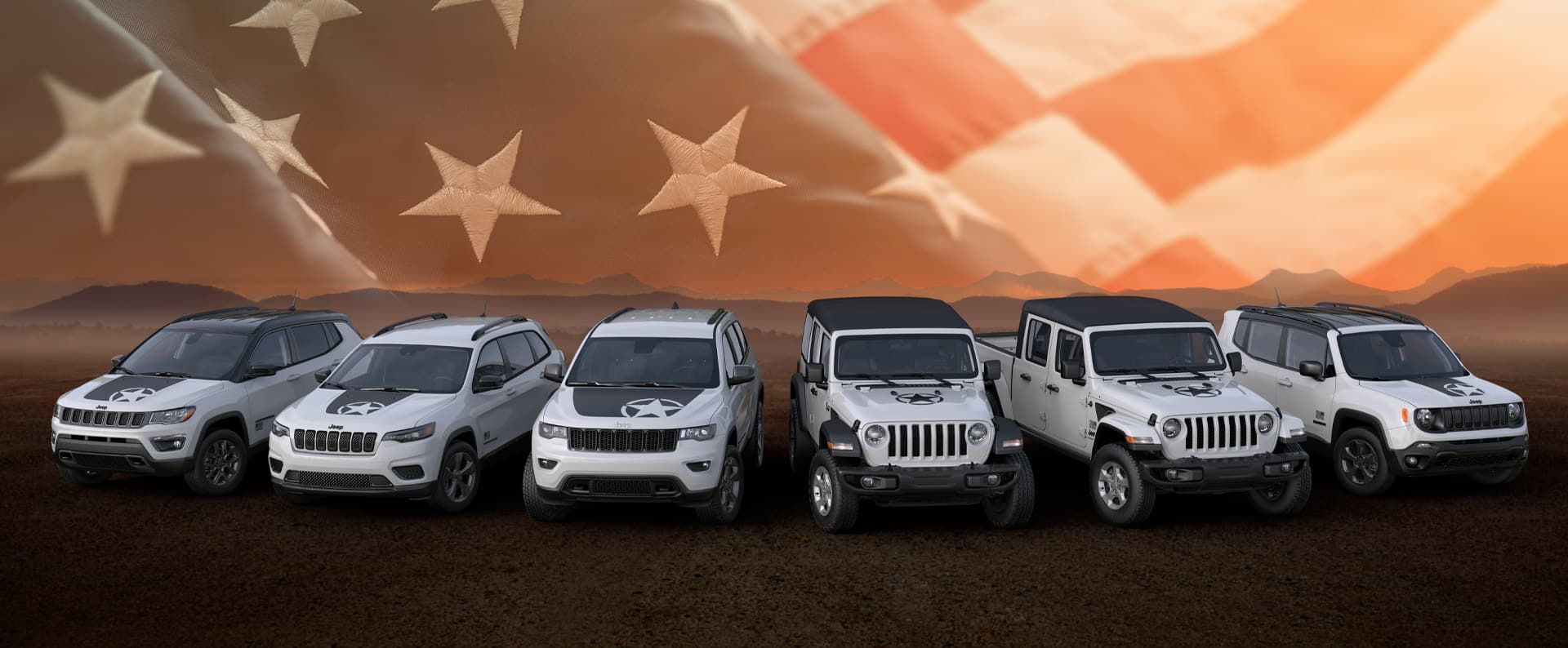 2021 Jeep Freedom Trim Now Available in all Models
Put your patriotism on bold display with the new Jeep Freedom trim!
Global brand research firm Brand Keys recently finished a comprehensive survey of American consumers and discovered that Jeep is considered the most patriotic automotive brand on the market today. With public perception as clear cut as this, it is particularly apropos that Jeep has announced that they are expanding their Special-edition Freedom trim to all of its 2021 4x4 models.
The 2021 Special-edition Freedom models are Jeep's tribute to the servicemen and servicewoman of the U.S. military. Each Special-edition Freedom model offers unique interior and exterior military design cues. In addition, Jeep also proudly announces that active and retired members of the military will receive a special $500 discount on all 2021 Special-edition Freedom models.

"At the Jeep brand, we are proud of our military heritage, with origins that date back to 1941, and the Freedom special editions are a tribute to all who have served and continue to serve," said Jim Morrison, Vice President, Jeep Brand - North America. "This Memorial Day, we honor those who have made the greatest sacrifice for their country and support those who continue to serve through these special editions."

How are the exteriors styled on the Freedom models?
Each Freedom model has a unique exterior with a large WWII-era "Oscar Mike" star decal on its hood, American flag decals on the doors, and matte black or satin 17" carbon wheels. Certain models, in addition, will come with a black premium Sunrider Soft-Top. The Gladiator Freedom Model also has a star decal on the side of its bed and a large Oscar Mike badge on the tailgate.

Paint color options for the 2021 Freedom editions include: Bikini, Billet, Black, Bright White, Firecracker Red, Granite Crystal, Hellayella, Ocean Blue, Punk'n, Sting Gray.

How are the interiors styled on the Freedom models?
Select Freedom models have Oscar Mike stars embroidered front seats along with unique leather trimming and Black Tectonic fabric. In additional, Freedom models will come with leather-covered steering wheels and light tungsten accent stitching on the seats, steering wheel, door pulls, and console.

Are the 2021 Jeep Freedom models included in the Jeep Wave program?
Yes, The Jeep brand will be 80 years old in 2021 and to celebrate Jeep is expanding its Wave Customer Care program to all models including the 2021 Special-edition Freedom models.

For those who are unfamiliar with the wave, the Jeep Wave owner loyalty program is an industry-leading benefit program that offers exclusive perks to all Jeep owners. For 2021, Jeep Wave program highlights include:

·         Three years of maintenance at Jeep dealers, including oil changes and tire rotations
·         24/7 support via phone or online chat
·         Vehicle protection including 24/7 roadside assistance
·         First-day coverage for loaner cars
·         VIP access to exclusive Jeep-brand off-roading and other events

What models are includes in the Special-edition Freedom series?
For 2021, the following Jeep models can be ordered with the new Special-edition Freedom trim.

·         2021 Jeep Cherokee                   
·         2021 Jeep Compass                   
·         2021 Jeep Renegade                 
·         2021 Jeep Wrangler                     
·         2021 Jeep Wrangler Unlimited     
·         2021 Jeep Grand Cherokee         
·         2021 Jeep Gladiator 
Flagler CDJR is the Palm Coast's Foremost Jeep Dealer!
Flagler Chrysler Dodge Jeep Ram offers the full line of Jeeps as well as a carefully selected lineup of pre-owned vehicles to customers in the greater Flagler County area.